All of us who have run ads on Facebook have always sighed when our ads got rejected because of the following message: "Your ad is not approved because it violates facebook's ad guidelines"
To make life easier Facebook has given us the 20% text overlay tool which has helped designers and advertisers to design the ad creatives within the confines of this rule. Most of the times creatives with less than 20% text are boosted smoothly but sometimes they too get rejected as the tool is not exactly perfect. Surprisingly many times, creatives with more than 20% text also get promoted.  Hence it is safe to say that the rule and its implementation are not totally accurate.
Facebook is now working on new guidelines around this and will probably do away with the text overlay rule. A spokesperson from Facebook told the John Loomer blog that – "To help advertisers achieve their business goals while providing people with an enjoyable experience on Facebook, we've had a policy limiting excessive text (more than 20%) on images in ads. We're always looking for ways to improve the experience for people and advertisers, which is why we're testing a new solution that will allow ads with text to run, but based on the amount of text in an ad's image, the ad won't reach as many people. We will continue to monitor how this test impacts advertisers as well as people and will iterate to ensure we are creating the best possible experience. We're testing in certain situations but are not changing the policy across the board at this time."
Facebook is currently testing the new guidelines and we were able to get you a sneak peek: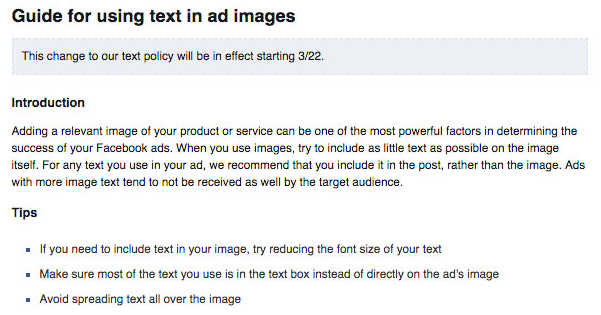 This means that Facebook is still asking us to use less text on image. They want us to focus on our text in copy rather than in the image. And they even suggest limiting font size.
There are now 4 categories of text overlay:
Image Text: OK
Image Text: Low
Image Text: Medium
Image Text: High
If our ad image text is classified as OK, we will get more reach and more value for the buck. More the text on the creative, more the reach will be limited.
Text exceptions that are not counted and don't impact on ads:
Movie Posters
Book Covers
Album Covers
Product Images – Where an entire product can be seen, and not just a zoomed in image of the product.
Posters for concerts/music Festivals, Comedy Shows or Sporting Events
Text-based Businesses Calligraphy, cartoon/comic strips, etc.
App & game screenshots
Legal text
Infographics
Text which does get counted:
These should be kept to a minimum:
Logos – Any text-based logo is counted as text regardless of its size or alignment
Watermark – Watermarks are considered as text, even if they're mandatory or as per their brand guidelines
Numbers – All numbers are considered as text
Hence what Facebook is emphasizing on since the beginning and still holds true is that we should keep minimum text on our creatives.
Do note that these changes are not for all users yet. Facebook is testing the new guidelines and will roll out across all users eventually.
WeBeeSocial is a full service creative digital marketing agency in New Delhi India.