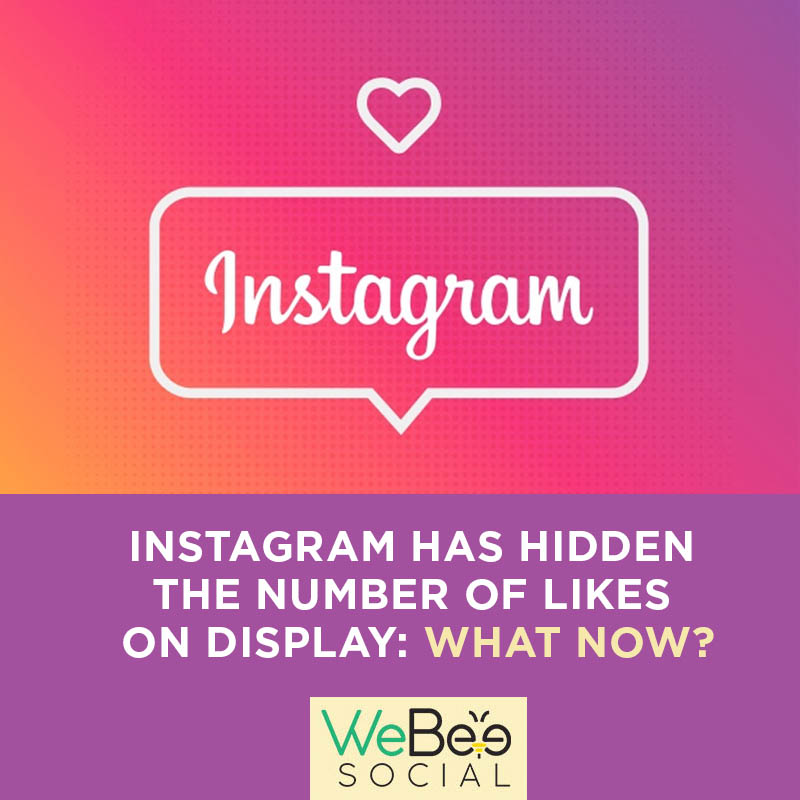 Instagram Has Hidden the Number of Likes on Display: What Now?
Ah, Instagram – everyone's favorite photo and video-based social media platform. To
the people outside the marketing and influencing bubble, it still remains as a platform
where you share your Coachella #tbt's, Kylie Jenner's nail art inspiration, or photos
from last night's book club meeting – but the influencers and marketers amongst us
live, breathe, and die metrics. So much so, that every time there's a new update, we
clutch our devices and pray to the social media Gods that it's not a drastic enough
change to completely throw off the way we've been working and creating so far.
Unfortunately, a bomb – ahem, update – like that dropped recently. And people are
not happy about it.
First, they took away our chronological feeds. Then, they made getting on to the
explore page almost impossible. And now, the folks over at Instagram took the
decision to remove the number of likes on display to help users move beyond 'just a
number' and concentrate more on engagement and the community. While this
seems like a great move, especially with the growing concerns of mental health
issues caused by immense social media fixations on the younger generation, the
influencers and marketers amongst us aren't… too happy about this. From
Instagram's end, it's all about depressurizing users and making it less of a
competition. But when your job quite literally depends on it, what else is it supposed
to be? Source : Giphy.com
While Instagram removing likes might not have caused havoc to the general public (other
then a few laments here and there) the major question that pops up for the players in the
world of marketing is – how do we go about influencer marketing activities now? Those
of us in India have got about six months to figure out the answer to this, and time's
moving fast.
Especially with a platform like Instagram, likes are the major metric that brands and
agencies look at, even more so than followers. After all, if your followers aren't
active, the number on the screen is just that – a number. So, this adds in another
step when it comes to finding the right influencers for your brand – one must reach
out to them and rely on them for back-end data for likes. Gone will be the days when
our social media executive could simply scroll down a profile and gauge the level of
engagement an influencer had garnered – getting that influencer list to our client is
now a long, long process.
Source : Giphy.com
Moreover, this means that agencies and/or brands now have to possibly bear an
added cost. They will have to work with third-party vendors to gain direct access to their
influencer partners' metrics—including likes, impressions and reach. Oh, and they can only
pick from those who are a part of Instagram's API partnership program. This puts agencies
and companies in a difficult position – either they invest money into these vendors, or
completely depend upon influencers for accurate engagement rates.
On the other hand, maybe this will prompt us to move beyond just the like and comment
metrics – attention metrics, for example, can be pulled into focus, wherein we look at video
completion rates or whether users turned the sound on for a video or not. In fact, this may
actually be a better metric when compared to a user simply liking a post – a lot of us tend to
simply auto-tap and skip from post to post, which means that there is almost no correlation
between likes and user attention. Similarly, sales lifts/drops may be looked into more now,
as a method to measure how successful an influencer marketing activity has been.
On the influencer's end – well, if you've been smart, you haven't made Instagram your
exclusive platform, and have hopefully tapped into TikTok. The little hearts at TikTok
might just be a replacement for the ones we used to find on Instagram! Moreover, with
complaints of Instagram being "saturated" being common (well, which platform isn't?)
and people being frustrated with not being able to get on the explore page, there's a
high chance that influencers will be open to exploring other/newer platforms. This
change might entail influencers creating content and being more active on platforms
like Facebook, Twitter, Youtube, and TikTok, but other than that, it doesn't look like
Instagram is dying down any time soon.
One definite positive side to this entire change though, is that people will likely be paying
more attention to the quality and style of content. It's less about "5,000 people liked this so
it must be cool" and more about creating content that can speak for itself, stand out on
your feed, and resonate with your audience.
Furthermore, now that likes have disappeared, brands will be looking
at metrics like video completion rates or conversion rates when signing on
influencers, thus further ensuring that there's cool, quality content on our feeds for
days to come! Campaigns will also tend to be more sales driven, which definitely
puts more pressure on both marketers and influencers – as if our client servicing
team wasn't the epitome of 'The Walking Dead' already. But, this should ideally push
us and the industry beyond our boundaries and lead to some exciting ideas and work
in the near future!
What are your thoughts on this change as a part of the digital marketing industry? Let us
know in the comments below!
WeBeeSocial is a full service creative digital marketing agency in New Delhi India. Our In-house Social Media team can help you identify the correct social audience, optimize your social media channels and design the best ads & social media campaigns. Feel free to connect with us to inquire more about our services here.