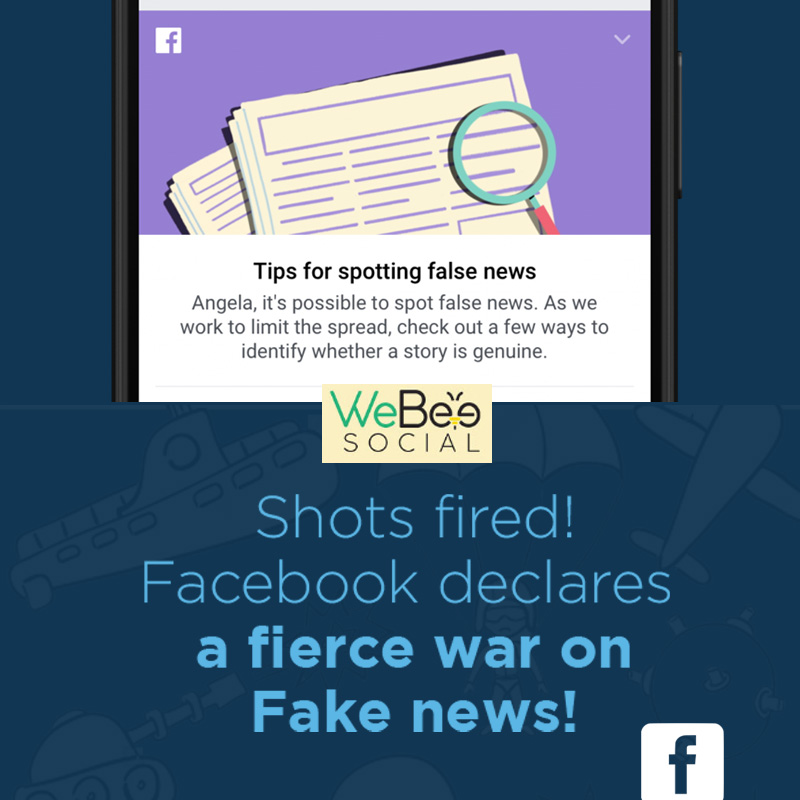 Shots fired! Facebook declares a fierce war on fake news.
Ever since we all made the switch from Orkut/Hi5 to Facebook, we have seen how Facebook has ensured authenticity of user accounts and has tried its best to tackle bots and inactive accounts. Earlier we had to be a part of verified networks to create user accounts and now (10 years later) we need to have a working mobile no. to continue using the social channel. One of the main reasons why people switched to Facebook initially and have stuck around is because the platform helps us weed out people whom we do not know and keeps the creeps away.
Even in terms of content, the Facebook  algorithm is more likely to show us posts from our friends and family with whom we engage regularly rather then someone whom we had to add in duress and really don't want to interact with that much. Hence it is safe to say that authenticity and adaptability to weed out fake accounts, inactive accounts and irrelevant content has been one of their strongest suits.
Now when the content has really become the king, we have seen many content publishers like buzzfeed, scoopwhoop, mashable etc. rise to fame and they have become mass media overnight with their social influence. People demand gossip, news and share worthy content hence some of these publishers have started twisting facts and distorting stories to meet the supply (and in turn get more clicks and ad revenue). This has led to the rise of Fake news being spread across social media channels and Mark Zuckerberg does not approve of it.
To make things worse, these fake stories hinder Facebook's algorithm and kill the reach of legitimate content. News publishers employ bots (fake accounts) to engage with these content pieces and screw with the algorithm to give more weight-age to this kind of content.  A channel which take pride in being legit has been infested with fake news and bots.
Hence Facebook has declared a full blown war and aims to bring down fake news for good!
Last year Facebook had announced that misleading/click baiting headlines will get a lower reach in the News Feed. You can read more on it here. In order to ensure that both users and the content are authentic, Facebook announced a few days ago a new box above the News Feed that offers to provide tips against the fake news. This will roll out in 14 countries initially. The box takes users to the help center where users are taught tips on how to spot fake news in the feed. Some of the tips are – being skeptical of headlines, looking closely at the URL to make sure it's not a fake, investigating the source of the news and watching for unusual formatting such as misspelling or awkward layouts.
Adam Mosseri, vice president of Facebook News Feed, said in a blog post that Facebook would also focus on disrupting the economic incentives for peddling fake news. "False news and hoaxes are harmful to our community and make the world less informed. All of us have a responsibility to curb the spread of false news,"
It is quite evident that Facebook is proactively fighting the fight against fake news and making fool of users. Last year it had come under heavy criticism for spreading fake news , specially during the US elections and election of Donald Trump. Countries like Germany have approved a bill to fine social networks up to €50 million if they don't remove fake news quickly. This and the fact that people put in their trust and rely on this platform provides enough motivation to this company to tackle this problem.
Following is the list of the tips shared by Facebook –
WeBeeSocial is a full service creative digital marketing agency in New Delhi India. Our In-house Social Media team can help you identify the correct influencers, optimize your social media channels and design the best ads & social media campaigns. Feel free to connect with and to inquire more about our services here.