How to Create a Website that Resonates with Your Brand
How to Create a
Website

that Resonates with

Your Brand

With practically everything moving online now and consumers making snap decisions about who to give their business to by looking at a brand's Instagram, can you really afford to not have a website for your business?

According to TechJury, 93% of online experiences begin with a search engine. This basically means that if your business doesn't have a website, you're losing out on a lot of potential customers. Beyond just aiding consumers in making key purchase decisions, websites also show professionalism (hey, if you have a website, you're pretty legit!), upgrade your customer experience, and function as a great marketing tool.

Now that we've convinced you to build a website for your business, we might as well let you in on a little secret – there are a lot of websites out there. And by 'a lot', we mean 1.74 billion, as per WebsiteHostingRating's report. That number translates into a pretty large pool of competitors vying for your potential customers' attention.

So, how do you set yourself apart from the neverending list of blue links?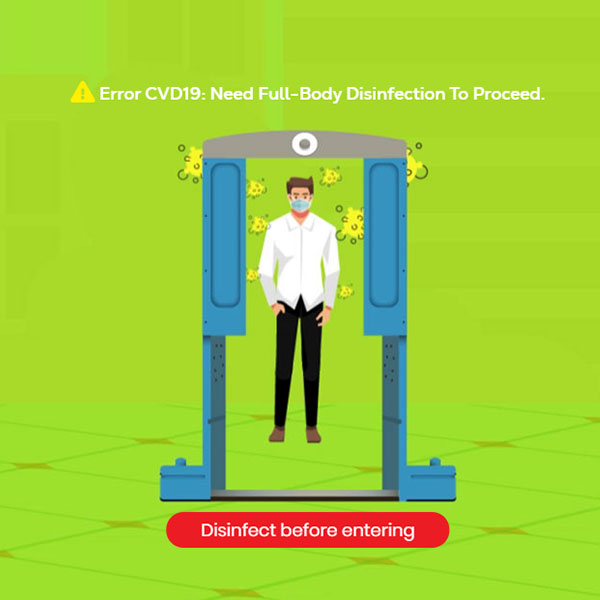 The key is to create a website that will resonate with
your brand, capture customers, keep them engaged, and create chatter

.

Let us show you how with an example.

Log on to https://www.okplayhealth.com and explore the website.
😊 Liked it? Thanks, we created it!
As you log on, you see the homepage load. But, before you can move further, you're taken through the OK Play Sanitisation Tunnel to ensure that you're free of any life-threatening germs and viruses like COVID-19.
Once you're through the tunnel and all
clean and sanitised

, you can move

forward

!

You are then introduced back to the homepage, which has the product details at the beginning, followed by a bunch of graphics that change as you scroll down further and show how the product works.

Note the fact that while you have been marvelling over the interactive website and graphics, we have managed to pique your interest, keep you hooked, told you all you needed to know about the product and brand, and created a connect. And, all of that barely took us 7 to 10 seconds! (It took our designer weeks to do this, but we won't get into that. The drawings of those COVID-19 germs still haunt him.)
Pretty neat, right? Like we mentioned earlier, retaining
your audience's interest

is hard, but a

great website works wonders

.

While the design and UI of this website, in particular, were the showstoppers, you can pick and choose different elements to work with for your website. It all really does boil down to user engagement, so make sure that your audience is hooked every step of the way.

To summarise, here's a little checklist to building a great website that actually works for your brand:
Obtain the right domain name: it should be relevant to your brand, easy to spell, short, and memorable. If it's SEO-friendly, that's an added bonus.
Make sure that it's secure and scalable: as your business grows, your website should grow with it! Moreover, you should definitely invest in keeping your and your customers' data secure, so pick a reliable hosting company with 24X7 customer support.
Put out good content: Content is king. Content is king. Work with a Content Management System (CMS). Content is king.
Create an engaging and memorable site: We've already demonstrated how to do that above, so sit back, get inspired, and let your creative juices flow! Just remember to keep the user interface easy, eye-catching.
Apply basic SEO tips: It's the difference between showing up on page 1 or page 20. Don't let this one slide!
Be regular: Update your website and publish content regularly. No one likes information that was relevant in 2014.
Look at numbers: They'll guide you towards success. See which pages are doing well and which aren't. Note the traffic at different times of the day and week, and plan your marketing accordingly.
Set up your payment system: Don't lose out on customers! Install a payment system and ensure that all options are working smoothly.
Even though this is a tiny checklist, it may seem like a lot of work. Not to worry, we can help! Our web development and graphics teams will be more than happy to work with you and create an innovative and engaging website for your brand. We already flexed our skills with that example above, but if you're looking for more, check out our portfolio here.
What are some of the best websites you've come across? Let us know in the comments!
WeBeeSocial is a full service creative digital marketing agency in New Delhi India. Our In-house digital team can help you identify the correct online audience, optimize your website for conversions and design the best ads & social media campaigns. Feel free to connect with us to inquire more about our services here.